Visit from Banff
At this year's premiere we had the pleasure of welcoming a very special guest: Stephanie Quaiser. She works at the Banff Centre Mountain Film Festival in Canada and answered some questions about Banff and the festival.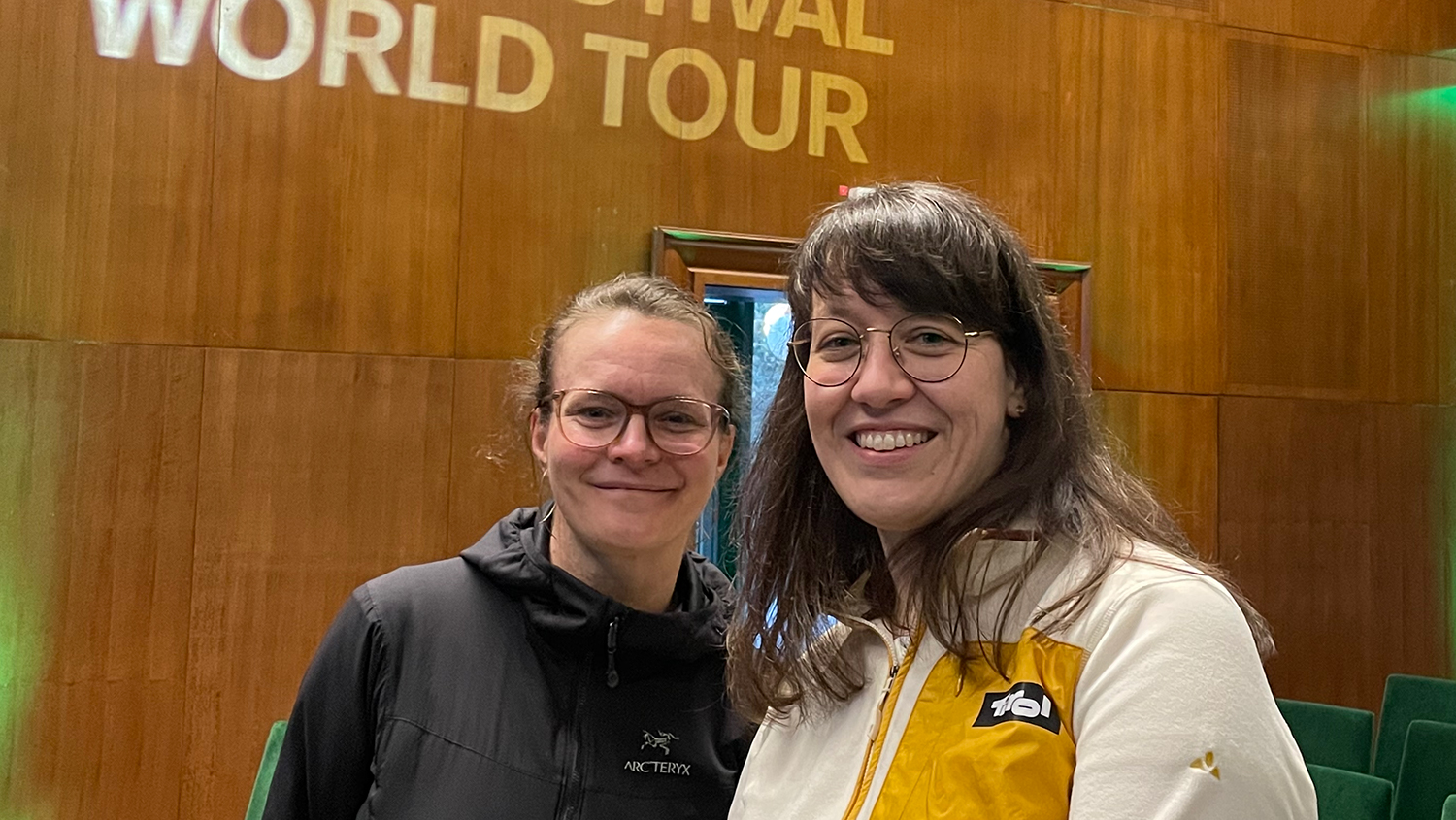 Stephanie Quaiser (left) and Daniela Schmitt (right) at the BANFF Premiere 2023 in Munich
Hello Stephanie - good to have you here today! We so rarely have visitors from Canada. Where are you from and when did you end up in Banff?
I've been living in Banff, the "home of the festival", for almost exactly ten years now, but I'm originally from Dresden. I used to go to the Banff Tour there. And that's also where I came from today for the premiere in Munich.
For most of us, Banff is just a dot on the map. What makes this place so special for you?
It is the home of the Banff Centre Mountain Film Festival. A small town in the middle of a Canadian Rocky Mountain range, about two hours west of Calgary. Banff and Lake Louise are popular holiday destinations. In winter tourists come to ski, and in summer to hike. We have glaciers, mountains and blue lakes... definitely great nature.
So it's just the right place for a mountain film festival.
Yes, exactly the right place to get inspired.
We are showing six films in our tour programme this year, and another seven in our streaming programme "Banff Extended". Can you tell us how many films were screened at the festival in total?
This year we had a new record of film submissions. 458 films were submitted for the competition, from 45 different countries! From these, 84 finalists were then selected and screened over the course of our nine-day festival in Banff. There are a total of 34 films on the World Tour this year. Each organiser then chooses the films that best suit their country or city.
What is your role in the festival team?
In the big World Tour team, I'm mainly in contact with the filmmakers and take care, for example, that their films are there on time - and everything else that goes with it.
Do you have a favourite film?
I find it very difficult to pick a favourite film. Each one is special in its own way. Actually, they are all good.
Thank you for the interview!
The Banff Centre Mountain Film Festival World Tour is shown in over 40 different countries. The film programmes are put together locally by the event organisers, so there is no single Banff Tour programme.

So if you've made a film and would like to see it on our Banff Tour, it will first have to be screened at the festival and then make it into our selection.
Banff Centre for Arts and Creativity
The home of the BANFF TOUR
As Canada's leading post-graduate arts institution, Banff Centre for Arts and Creativity offers intensive training and career development programs for emerging and established artists across all artistic disciplines. Banff Centre also provides training for leaders in cultural, Indigenous, corporate, and environmental sectors. From our home in the Canadian Rockies, Banff Centre provides a holistic learning environment where artists and leaders, stewarded by world class faculty, can realize in days what would normally take months. We are Canada's home for arts training and creation.
Banff Centre for Arts and Creativity is located in Banff National Park, a UNESCO World Heritage site. The spectacular beauty of the Canadian Rockies surrounds our campus spread over 42 acres of land on the west side of Tunnel Mountain and just a few blocks from downtown Banff.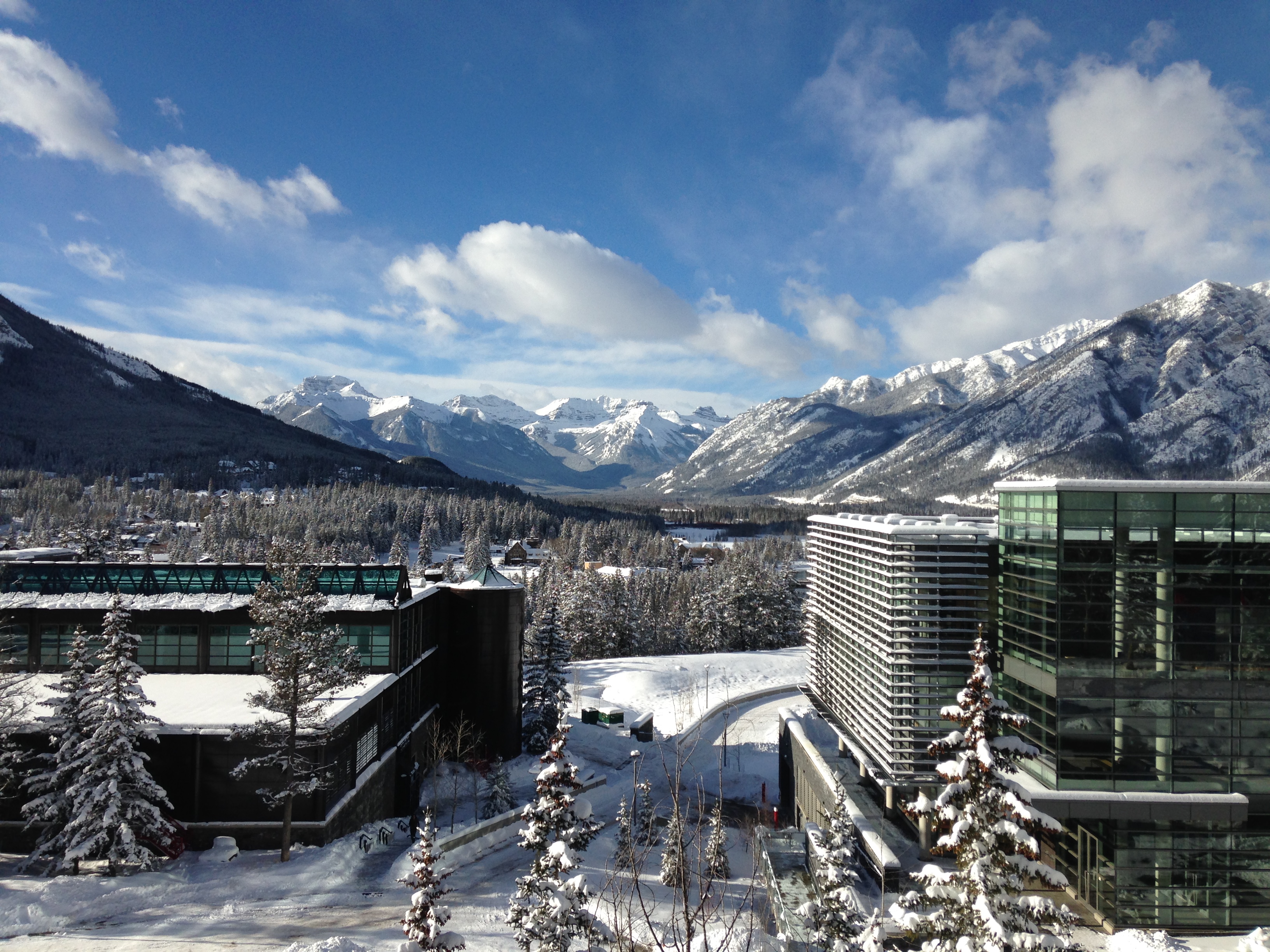 The Jeanne and Peter Lougheed Building (building on the left-hand side) is Banff Centre's media headquarters. It houses a full production house capable of creating professional content for a variety of platforms. Few production houses in the world have so many facilities in house, and that's what makes it such a cool spot.
Banff Centre's newest meeting facility, the LEED Certified Kinnear Centre for Creativity and Innovation (building on the right-hand side), includes 17 fully-equipped meeting rooms of varying sizes and flexibility which can host groups of eight to 400 participants. Kinnear is also home to Maclab Bistro and the Paul D. Fleck Library & Archives and has mountain views from all rooms.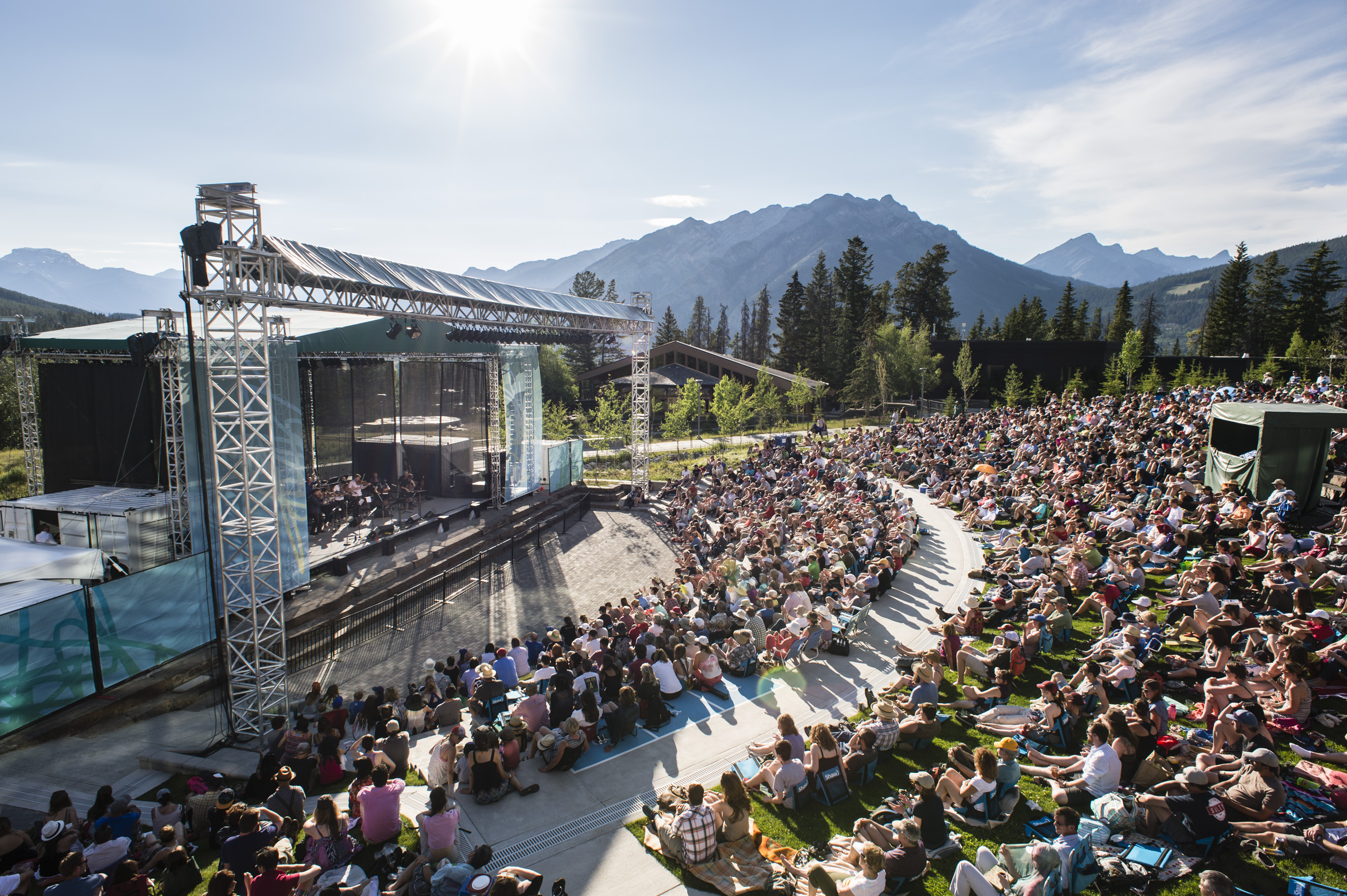 The Shaw Amphitheatre is Banff Centre for Arts and Creativity's most majestic and engaging venue with a spectacular 360-degree view of Banff's mountain ranges and an open starry sky at night. In the heart of Banff Centre campus, the outdoor amphitheatre is nestled outside of the Kinnear Centre and Max Bell Building. An ideal location for a post-session event, or to be enjoyed from a private reception on one of the Kinnear Centre's terraces. This facility can seat 1,700 people and comes equipped with technical equipment and crew.