 Back on tour from February
BANFF Christmas Special
If your wish is to have BANFF tickets under your Christmas tree, it's time to order our Christmas Special! Simply buy your tickets and we'll send them to your door—free shipping and giftwrapping included!
Promotion valid between 1–19 December 2023 inclusive.
Get your tickets for 2024!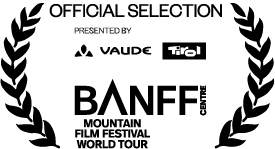 First glimpse into the new program
News from Banff
Over the past few days, the world's most renowned mountain film festival has taken place for the 43rd time in Banff, Canada - the home of the BANFF CENTRE MOUNTAIN FILM FESTIVAL WORLD TOUR.
Mountain enthusiasts from the film, media and sports industries from all over the world came together to marvel at and honour the best mountain films of the year. We also mingled with the audience - always on the lookout for the most impressive stories for our new BANFF TOUR 2024.
Next spring, we will go on a big BANFF CENTRE MOUNTAIN FILM FESTIVAL WORLD TOUR with the brand new programme!
Banff Tour 2023
You now have the opportunity to get the two-hour programme directly to your home on Outdoor-Cinema.net and enjoy it on the couch.
Talks & Highlights Banff Tour 2023