Into the blue
An interview with Adolfo "Fito" Trujillo from the film Reel Rock: Cenote
Mexican Adolfo "Fito" Trujillo discovered his true passion – climbing – while he was spending time with his friends in the cenotes. In our interview he remembers how everything started and shares his favorite climbing spots in Mexico.
When did you start climbing and how did your friends respond, when you discovered this new sport?
I started climbing in 2019. Back then, I didn't even know it was a real sport. For me it was just a pastime in the cenotes. My friends and I always had a good time there and what I did was never regarded negatively in any way. Maybe there were some who enjoyed my climbing more than others. But in general, they were an audience which wanted to see more. Plus, my family has always supported me. The only thing my mother said to me was that I show look after myself. But she is happy that I'm doing something that I like.
What are cenoten?
Cenotes are water-filled caves. The Yucatán Peninsula of Mexico has an estimate of 6,000 cenotes. On average they are 15 meters deep, but some cenotes can also be 100 meters deep.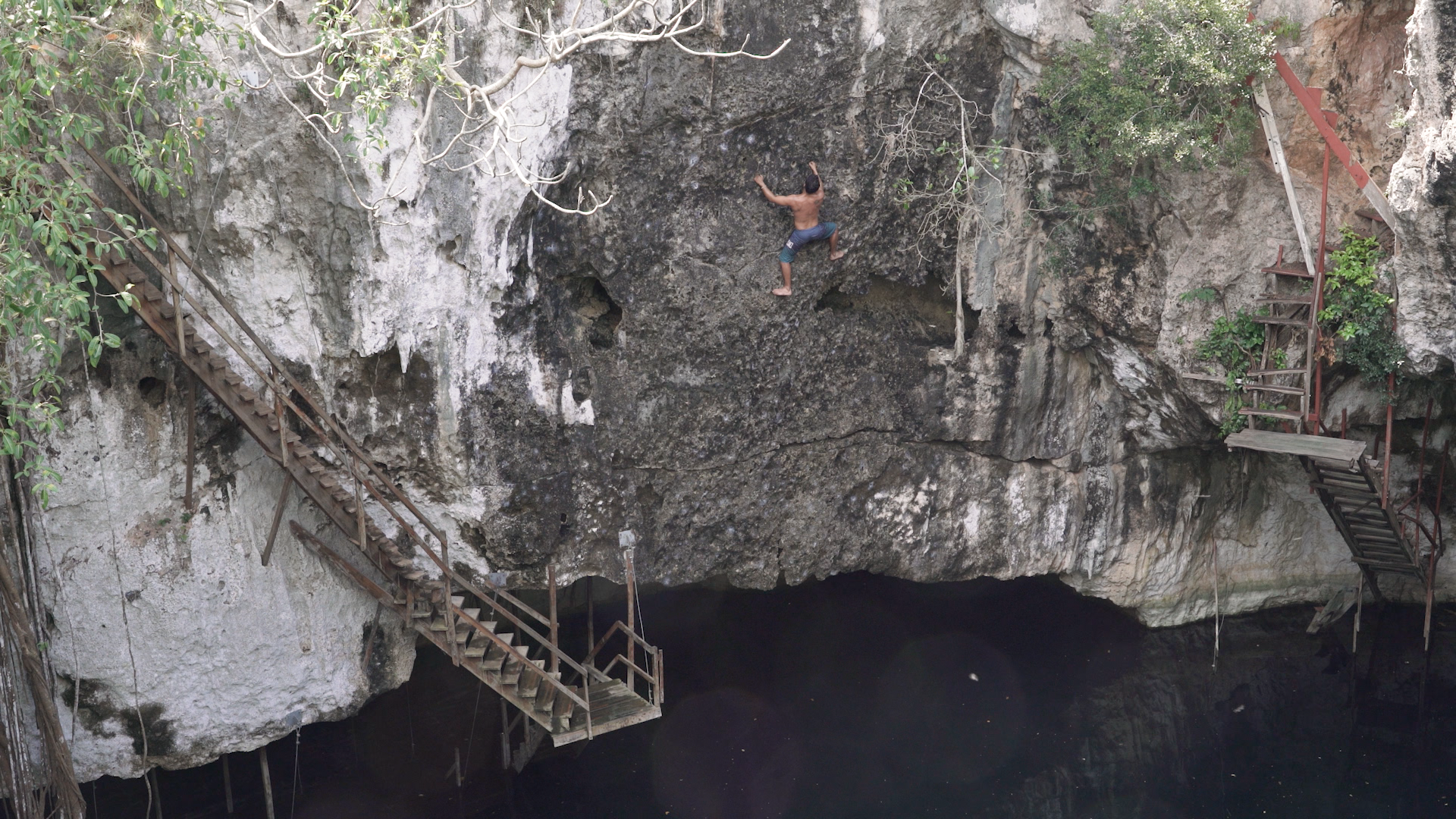 © Reed Rickert
Deep Water Soloing was the beginning of your climbing career. What do you prefer: climbing with or without a rope?
I've climbed some routes with a rope but honestly, I prefer climbing without a rope. And if I fall, then I fall into the water. That's much more comfortable, I think. Sometimes, when I climb in the mountains, I forget to place gear or use chalk. Therefore, I rather go bouldering or Deep Water Soloing.
What are your favorite climbing areas in Mexico?
I really like Mineral del Chico, Peña de Bernal, Miradores del Mar and La Cueva de Actopan. But there is still a lot to discover for me, Peñoles for example. But this is a goal for the future.
You used to be a papaya farmer. Now you run your own climbing gym. Was it an easy choice for you to quit farming?
It was very hard for me because money is a very important factor. I like farming and I made more money as a farmer. Now I am happier, but I have less money in my account. (laughs). But it's slowly getting better. Here in Mexico, it is hard to make a living from the sport you love. But we continue. Climbing is a great sport, and it can change your life for the better. And everyone can decide for themselves, how much they would like to throw themselves into it.
More about the film Reel Rock: Cenote